Members are frequently asking us how they can connect more with their peers within the
community. Our website offers many features that enables direct communication, interaction
and networking. These member-protected pages also provide detailed information regarding the
inner workings of the Association, including Engagement Group events, ongoing board plans
and election results.

How do I access AAMFT's online networking resources?

First, logon to your account at www.aamft.org. Next to your name at the top right-hand corner of
the page you'll see a My Networks link. Select that to access the networking features.

What is the Member Forum and how can I utilize this resource?
The Member Forum enables members to post discussion threads, questions, or requests to the
AAMFT community. Some use it to solicit or provide career advice, post job listings, request
participants in research studies, share developments or concerns regarding the MFT profession
and much more. You can search for topics, or sort by date or subject of threads. You may also
start a new thread. You can also use this resource to introduce yourself to the community and
forge relationships with other members.

From the Community Home tab, you can review the Latest Discussion Posts and choose to
Add to those conversations.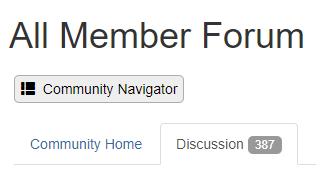 You can also peruse all Discussions that have been contributed to
that particular Forum.

If you would like to Start a New Thread on the All Member
Forum, or any other online Communities, click on the


button on the right-hand side of the page. You
will then be able to select the particular forum, with the option of cross-posting to multiple
forums.

If you choose to Follow a particular thread, you will receive email notifications when new posts
are added. Use the feature to manage the frequency that you receive these
notifications, or to remove yourself from a particular community.

You can also recommend this thread to others as particularly interesting or pertinent or select Reply to privately respond to the author.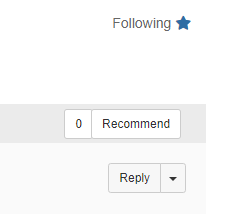 What will I find in My Networks?

There you will see a wide range of online communities in which you can participate! If you
already belong to any Engagement Groups, whether they are Geographical or Topical
Networks, or other communities such as the Approved Supervisor network or Family TEAM,
those forums will appear here.

How do I connect with an individual AAMFT member?

To send a direct message to another member, you may use the Member Directory.
This tab can be found along the top blue bar of the main Networks page:


Here you can search for other participating members via name or email address. An Advanced
Search will allow you to search for Location: City, Country and/or State/Province. You'll then be
able to read members' profiles, review their Connections and peruse their individual
Contributions to the Networks.

How do I update my profile in the Member Directory?
At the top right-hand corner of the AAMFT Networks page you'll see a profile icon

with a
drop-down arrow that will enable you to manage your networks profile page. Here, you can
include your Bio, Education, Job History, Professional Associations, Honors and Awards
as well as Social links. You can click on the Actions button to change or remove a picture.
The Contact Details that are found below the picture on the bottom left-hand side are
populated from your membership profile. To ensure that this information is accurate and up-to-date,
please follow the instructions that are detailed here.

If you have generated connections with other forum contributors or are following particular
discussion threads, those will appear under the My Connections tab. Any posts or threads that
you have generated will be found under the My Contributions tab. The My account tab will
allow you to manage various settings, preferences and notifications, as well as your signature
for posts. Your inbox includes all system emails that you have received through the AAMFT site.

Questions?

If you have any questions, please do not hesitate to contact us. You can reach Member
Services at central@aamft.org. Our number is 703-838-9808 and our office hours are from
8:30am to 5:00pm, Eastern, Monday-Friday.